A Fullerine Schedule
Tuesday, 4 Jan 2005

:-: [soundtrack]
For some reason, Winter breaks never seem to be a break for me. Last year, I was exhaustedly going through biibliographies about Philadelphia history. This year, I'm burning my eyes from weeks staring at the screen, editing audio about Philadelphia history. This time, a bad cough set the recording back. The audio I do have depicts a scratchy voice -- I wish I wasn't sick when I recorded this.
** * **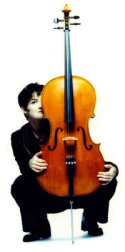 Photo from
Magnatune
But the project *is* fun. And if all goes according to plan, the audio documentary to accompany Philadelphia Fullerine will be complete today.
Here's a teaser:
The background music, "All She Can Carry," is by the marvelous cellist Jami Sieber, one of the artists at Magnatune. The song is from her album "Lush Mechanique," which is perfect for parts of my documentary .
Jami has made her music available under a Creative Commons Attribution-NonCommercial-ShareAlike license. Thus, since I'm doing a non-commercial project, I have been able to incorporate a wide variety of music from Magnatune.
** * **
Many arists and musical groups have contributed to the project. I'm planning to send them each a copy of the audio documentary as thanks. Furthermore, I'm going to include something else with the art project.
** * **
Viewers of the sculpture will be checking out an mp3 player and listening to the short documentary clips as they view the sculpture (although it all adds up to over two hours). When they check out the player, they will also get some pages of information about the sculpture. One of these pages will list the artists whose music is used in the documentary. It will mention each album (and eventually, each track) and give URLs for purchase from Magnatune.
** * **
This project has been a lesson in the power of sharing art and copyright. It's valuable to retain copyright over one's works, but it is so much more valuable to use that copyright wisely to encourage creativity. I wouldn't have been able to put this sculpture documentary together if it weren't for the generosity of the many image sources who granted me free reproduction rights.
We can do really cool things when we share.