Armistice, and Montecassino
Monday, 14 Nov 2005

:-: [soundtrack]
We just recently celebrated Armistice Day in the United States. So I thought that today would be a good day to post an interesting story I heard the other day:
** * **
It was 1944. The Man Who Never Was had already landed, and so had a lot of Allied troops. Now, they were trying to link up, but a single unite of German paratroopers managed to hold out for months.
Local refugees hid in the Abbey of Montecassino; the edifice had been around since 1394. Unfortunately, the Allied forces guessed that the Germans were hiding in the Abbey. Bombers publverized the building. Although the archives of the abbey were evacuated by the Germans at the start of the battle, many refugees died in the bombings.
The Allied victory at Montecassino opened the way for the Allied occupation of Rome. This marked the beginning of the end for the war with Nazi Germany, since it was the first Allied occupation of a major capital city.
** * **
This photograph was taken during the battle of Montecassino. These American soldiers were with Company B, from the 753rd Tank Battalion.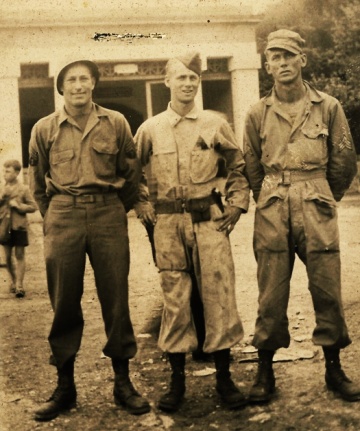 My friend Peter DePuydt, reference librarian at Elizabethtown College, writes:
My Dad is on the left with the helmet. His name is George DePuydt and he will be 88 years old this Dec. 20. The man in the middle is/was his friend Harold Uhlrich. My Dad says he cannot remember the name of the man on the right. This picture may have been taken when they were on leave visiting the ancient Roman city of Pompeii. They were all at the Battle of Monte Cassino. My Dad was slightly wounded at that battle and was awarded a Purple Heart.
Uhlrich died a few months later. Before Harold died, George DePuydt promised he would find Harold's family. Now, after 60 years, he finally has.
** * **
Just look at their eyes.
** * **
Pete promised to tell me more about his father's purple heart, about Uhlrich's death, and about his dad's reunion with Uhlrich's daughter. I'll try to post them.
Today's Music: The Last Full Measure of Devotion. It's for all those who, like Uhlrich, have given their lives for the freedom of the world. And for heroes like George DePuydt, who gave no less yet still survived, I present, "Who Are the Brave."
Who are the brave? Those who go to war for freedom; those who live with pain; those who serve the poor. Those whose speech is free. Those loving liberty. All those with heart and mind, protecting all they find: those who serve mankind. These are the brave.