Ars longa, vita brevis
Saturday, 6 Aug 2005

:-:
Very soon, I will be uploading an entirely new set of pages. But I will not be uploading them to this server:
Linux rubberpaw.com 2.4.16-586 #1 Wed Nov 28 08:21:15 EST 2001 i586 unknown
Rather, I will be uploading them to a new server, which will be properly hosted in a colocated facility. I'm looking forward to it.
Along with the new server goes a new domain: www.natematias.com. It points nowhere yet, but it will be a place with information about me in general. It will be an expanded form of Mark Bernstein's Personal Information Page idea. Here's a rough idea of what it will look like: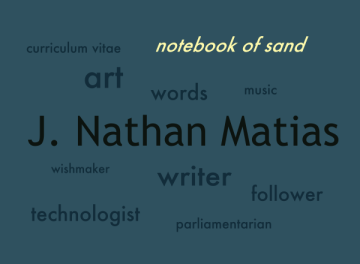 ** * **
ars longa
One part of the site, linked from the word "wishmaker," will be subtitled, "identity via absence." The idea is to list all the things I have not done and wish someday to do. I got the idea from my wish to list all the things I wish someday to read. When devising the site, I realized that I could expand this list to include many other parts of life that I may never enjoy. It seems that a list like this could help people understand something about who I am. By writing things here, I hope also to alleviate my tendency to operate my life as a rush of interesting information and experiences. If I write them down, maybe I will be more content.
** * **
For example, this week on BBC7 was too good.There were simply too many interesting shows this week. I was able to listen to Dan Dare, Pilot of the Future, based off a 1950s comic strip (wow. Elton John did a Dan Dare song. Wow. I'm speechless. Link via Dan-Dare.net).
I also learned that Nick Hornby has a very boring voice. But I missed an interesting Agatha Christie mystery. I missed what sounds like a really sad love story, and I even missed the account of a hitchhiker in Ireland. There's even a six-part series about a Fansiscan monk-turned-sleuth.
** * **
Ah well. Life is short. This weekend, I build a geodesic sphere, set up a RAID-ed Linux box, write code to authenticate IIS 6 directories on LDAP queries, send a flurry of emails, perform the trumpet, meet an old friend, attend a gallery opening, begin preparing for GRE tests, begin preparing a screen presentation and maybe even sleep.
Hopefully, blogging will fit in there somewhere. I'm afraid that this level of craziness will be maintained for the next month or so.
Hang on tight! It's going to be a rough journey.