Dimlit Feet a-Flashing
Sunday, 14 Mar 2004

:-:
Images in the mind.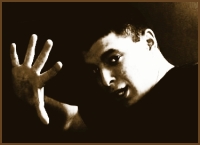 Can I have reconfigured the nature of my brain so easily? For years, my mind worked in words, in text, in semantics. In meanings, in connections, in logic and phrasings, my thoughts processed, ground, synthesized, analyzed, and compacted neatly into boxes carefully filed away. Is this why I liked computing? Why I like programming? Maybe.
When I chose to phase out of programming, did I realize it would change the very nature of my mind? I hoped so, but I didn't know what I wished for.
I have, over the last year, slowly begun to arrive at a personal epoch in my thinking. Not so much one of ideas and opinions, but one relating to the basic mental framework that I operate in. It's like opening one of the crystal canisters in Avernum; I find myself changed, but not in a particularly put-your-finger-on-it way.
But why do I mention this?
Almost instantly, one knot of the crowd unravels and this old man in a topcoat and a hat and big boots tied with yellow laces steps out. From another dark annex of the carpark, his counterpart appears. By the time we hit the last part of the first part first time round, they're poised and ready -- arms not stiff and rigid like the modern over-educated dancer, but relaxed, palms held outwards in a gesture some way between a welcome and a challenge. They face each other, one foot pointing outwards, while the crowd has shifted and coagulated round them in a focus of attention.
For some reason, after I read the first sentence in the previous quote, from Ciaran Carson's Last Night's Fun, In and out of Time with Irish Music, I had an image of an old man. He didn't appear, but rather emerged. Someone had begun to attempt to dance first, a younger one, not as deep in the lore. It was inside the pub, and voices called out for a bit of a dance in-between the cigarette smoke. He was reluctant, or seemed so, until they drew back into a circle.
When the old man came out, he was brilliant, his limber body slapping his shoes to the ground at all angles and tempos. Here, I see the aged, unstained, dry, worn floorboards and his shoes, casting a dim shadow that darts in and out like a knife, and hear the report of the leather on wood, the smart whip-slap becoming a minnow in the lucid stream of limber melody . A knot of men circles around, enjoying the scene, contentedly puffing away, or sipping at whatever happens to be in their mugs. Dim, but vivid.
Where did that come from?
There it is, in all of the cinematic wealth of experience. I first assumed the image came from a movie. They always do. Perhaps it's the programmers mind that too-neatly categorizes, that keeps ideas on paper and images on the television and in photos and in real life. Nearly all of the images I have ever seen in my head have come from sight, either from the television or from daily life. (I can think of one, of seeing a woman that could be my grandmother trundling a heavy wastebin, bending down to pick up trash in a factory whose screeches would overpower the most consciously dead metal music.)
I can't think of a movie the scene appeared in, and I must conclude that it's from a book.
This is earth-shattering. This is only the second time it has happened to me, and it's the first time I've visualized something vividly enough to describe it, knowing that it came from a text of some sort. I have forgotten the text, but the image remains.
Fascinating. This will take some looking into. I think that maybe listening to audio drama has helped (although I still can't visualize it), or that enough reading has really changed the fundamental structure and nature of my thoughts. Of course, it could be my focus on nonfiction writing.
More on this later, to be sure.
Note: As I edited this post for spelling and wording, I suddenly remembered where I got the image: Akenfield: Portrait of an English Village. Woah.