Discipline
Monday, 21 Mar 2005

:-:
Yesterday, I felt the worst I have in years. No, my body is healthy, my mind was clear, and my relationship with God was doing well. But when I sagged into a chair to read Tracy Kidder's book, Mountains beyond Mountains, I could feel the little rounds of fat complaining as they squeezed around my belt. I had slept a great deal, and yet I was exhausted.
I knew what was wrong.
** * **
I am relearning a life of discipline. I used to think that discipline involved finding a single thing and pursuing it to the most maximum possibility of attainment.
I now know that this itself is a failure of discipline. It takes great discipline to single-mindedly focus on a single thing. But it forces shoddiness and laziness in other areas. Ultimately, single-mindedness to a breakdown.
I should know. This is what I have done with my studies in the past. It led to illness and burnout.
True discipline involves finding a balance. It takes a greater discipline, a more fine-tuned knowledge of one's self to use every minute wisely, doing the task one is most able to do at the moment while keeping in mind a larger picture. To do this while focusing carefully on the small things that define our lifestyle's texture -- like posture and prayer -- requires a much higher level of discipline thatn abandoning all but one thing.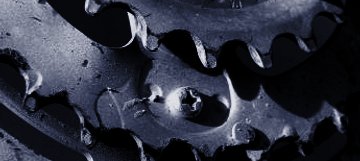 I'm not going to let it happen again. After a discussion with Dr. Teske and Dr. Long of the psychology and religion departments (and after prayer) I have been reminded of the necessary nature of an early morning routine. I have now implemented one -- it contains physical, spiritual, and mental exercise and does well to make me feel clean, alert, centered, and ready for whatever day I am to have. But my goal of discipline goes beyond that. I am going to try to eliminate a number of small tics and vices I have accumulated over the years. It is foolishly unwise to permit them.
Wish me luck and pray.
It's possible I may be undertaking a rather large physical endeavor this summer. This early preparation may lay a good framework for what looks to become a fun but very challenging experience.