Flow
Thursday, 30 Jun 2005

:-:
I am finally in the zone. It took me weeks. It always takes some time to transition from the school mindset, which is changing so constantly that it's difficult to put together a good bout of focus. But now, even with tons of craziness going down all around me, I found it.
It took a lot. I had to finish writing some poems, which occupied a lot of thought process. The poems are great. They're done, which is even better. Last night, I had to sit up, bang away mindlessly at something that I really needed to get done last week. I stayed up, sitting in my seat like a stone untill 3 A.M. and made little progress.
O blessed weirdness that is the human psyche!
I got up this morning, rested, ready. Thank you for miracles, Lord.
Getting up, I sat down at the couch and started typing. That was 6 hours ago.
Zip, zing, pow.
I have gotten more done in the last 6 hours than I normally get done in days at the office. My fingers feel like a surgical robot on speed dial.
Ahh, now I remember what programming is like. Flow, flow. It's the coolest trip you could ever ever ever get, when the mind and the body and everything are completely, fully focused and intent and intensely cranking out on a large task. It's nice to see things coalesce smoothly, rapidly, and with deliberate pace, until the code and text and graphics come together into the single whole.
Just me and the screen.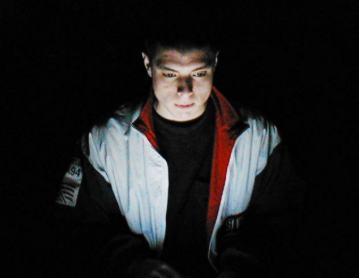 Like I said, I'm tripping today. Mind and body are on turbo right now.
I wonder how long it will last this time? I sure hope it keeps up for a few weeks. Hightened acuity may seem like insanity. But it sure is fun -- and effective.