High Underground
Friday, 14 May 2004

:-:
The last two days, I haven't been posting because I've been High Underground. Sort of.
See, I've been preparing a guide to interesting, useful reference materials found at the Elizabethtown College High Library. It's due today. And, well, you know me. When my wrists started hurting too much to actually type, I didn't give up.
I decided to turn it into a website. At least I could still use the mouse.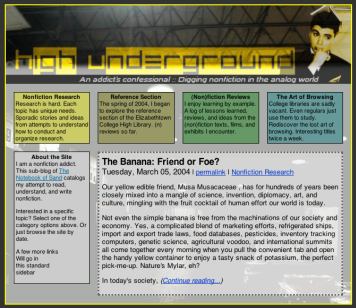 I called it high underground for several reasons. The library's name is The High Library (named after High Steel I think). This is going to become somewhat of an underground guide to the library and to nonfiction research in general. And yes, research is very addicting.
The superstructure in the image doesn't refer to High Steel. Rather, it's a a photograph of the shipping dept. of Amerimax Home Products, who I worked for last summer.
Life will begin to seem sane starting tomorrow, I hope. No shipping dept. for me, though I miss it. I'll be doing writing for the new Elizabethtown College website.
High Underground, a site about creative nonfiction and and nonfiction research, will be launched sometime next week.