I'm going in...
Sunday, 5 Jun 2005

:-: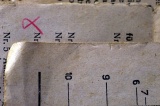 This morning, at 8am, I begin my test toward becoming a Certified Parliamentarian. I have studied hard, and I hope to pass.
Outcomes are never certain, particularly in tests; I would like to be better prepared. But here I am. Faced with an hour and a half before I take my place, I will not use all my time to review. I want to spend part of my morning praising and giving thanks to God. He is the author of my life, and the giver of the freedoms and opportunities I enjoy. My study would be nothing without him.
Whether or not I pass, the test has fulfilled its purpose, to encourage me to further, detailed study of parliamentary procedure such that I am much better prepared for advising and carrying out the principles and process of democracy.
Not that passing the test would be a bad thing ;-).
Now, a final set of quotes:
The great lesson for democracies to learn is for the majority to give to the minority a full, free opportunity to present their side of the case, and then for the minority, having failed to win a majority to their views, gracefully to submit and recognize the action as that of the entire organization, and cheerfully to assist in carrying it out, until they can secure its repeal. (Robert, Henry M. Parliamentary Law, New York Irvington: 1975)
It is difficult to find another branch of knowledge where a small amount of study produces such great results in increased efficiency in a country where the people rule, as in parliamentary law.(Robert, Henry M. Epigram to Robert's Rules of Order, Newly Revised, 10th ed.)
I'm going in....