John Kerry Carries Philadelphia
Wednesday, 3 Nov 2004

:-:
Today was an exercise in why America's focus on local control is important. It first struck me on my way to Philadelphia on the Amtrak.
On the way up, the conductor was describing the cabin he built on land he bought from rich people in Tennessee. They were city folks, and he's a savvy midstate Pennsylvanian. While the other rich people in the area are fighting over the marina, he's building his cabin. No matter that they call his home a "fish shed." He bought a kit for half price, and now he has his dream of a home and beautiful land on a lake. It cost him much less than a suburban condo costs. Why? Almost nothing happens in that part of Tennessee. It's not a hotbed of social life. But that's exactly how he likes it.
The conductor on the way back, from Philly, was much different. When we arrived in Mount Joy, he hollered in disdain,
"What is that smell!"
The guy in front of me grinned.
"Lancaster County. What? You don't like manure?"
The conductor shook his head incredulously, and we all laughed. Cow poop is one of those things that makes our lives special.
The peope in Philadelphia are much different than I am -- at least the ones I pass on the street. Nobody smiles, nobody gives respect. A bunch of able-bodied people passed over an elderly woman who could have used an arm to cross the street. People look at me funny when I hold a door open or hand a beggar half of my sandwich.
I guess it really is a different world.
** * **
Many people were out trying to gather attention. But the efforts were focused and carefully-planned. Most Democrat activity I saw was in Center City, so the AP photographers wouldn't actually have to walk walk to get good photos.

This picture is the perfect representation of what's wrong with this election. If Kerry were really interested in the environment, we would never see this. If Bush were really interested in big corporations and freewheeling irresponsibility, then we would never see this. Instead, the most likely-to-be-elected environmealist-ish candidate only comes so far as ignoring the issue by deferring the idea of good policy to the modern, silver-bullet magic of "future technology." This, of course, keeps everybody happy without doing a blessed thing about the problems we face with pollution and sustainability. Under Kerry, we will all be able to drive fuel-efficient, renewable-energy SUVs and hummers. And we'll be happy with how things turn out....(stops ranting before it gets too late)
** * **
Speaking of whom.... I ran into Kerry today while on my way to the Library Company of Philadelphia for history research...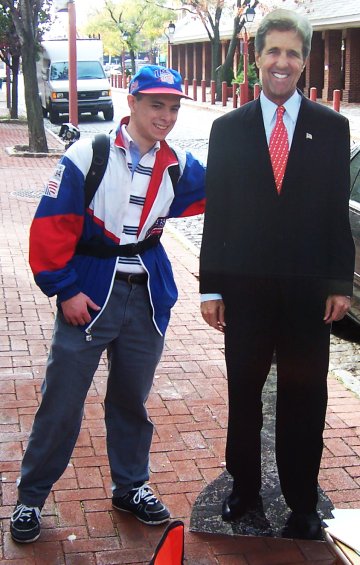 Kerry was stoically tacet when I asked him about his expectations for the election. No doubt he would have spoken out under other circumstances, but in this case, he was just a piece of cardboard. Oh well.
Kerry supporters were everywhere. Toward South Street, people from MoveOn were assembling en-masse.
I did notice later that they were cycling people to make the crowd look bigger than it really was. Good tactic.
** * **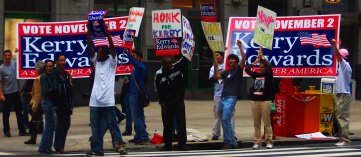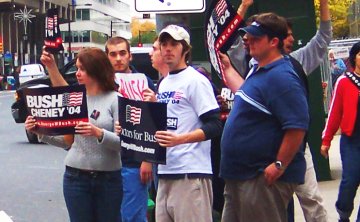 ** * **
My opinion?
Resurrect the dead on planet Jupiter! Toynbee for Galactic Overlord!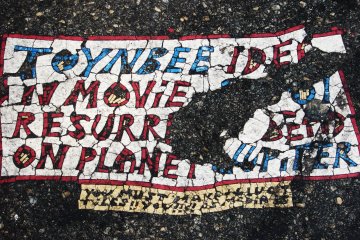 ** * **