Juggling And Sarah and D.C. oh My!
Sunday, 11 Apr 2004

:-:
Tomorrow I will visit the United States Capitol, Washington D.C., with my good friend Sarah and some of her friends. We will visit the Museum of Natural History and the National Museum of American History.
Of course, you can never be sure how things will proceed when you travel with someone studying at a school that apprentices students into the Strategic Intelligence Program:
But it's cool, because I'd rather have one of those friends be the greenlit eye of Providence than anyone else in the world. They do have a real sense of Integrity, marketing or no marketing.
...*zing pop bang!!!
So if you happen to be in D.C. on monday and see a guy that looks like this: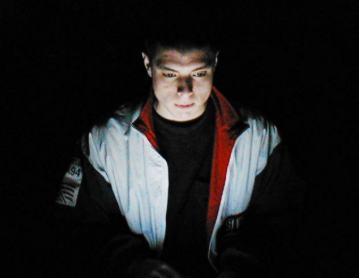 Well, except for the darkness....and the laptop.
But I'll be wearing the jacket....
If you see a guy like that, well, you'll know his name.
Other randomness
To further boost my ideas about intelligence and jugglers, I give you the Rensselaer Juggling & Unicycling Club. Yes. Sarah *is* a juggler.