Kerouaking
Wednesday, 9 Jun 2004

:-:
"Hey, good to see you again?"
"How's it going, Dan?"
"I got a fellowship in philosophy for the summer at Villanova."
"Woah. Awesome. That's a rare treat."
"I'm not going."
"Really?"
"Yeah. I'm going West instead."
** * **
one week later, an email arrives from another friend....
So like, I'm out in like California, cha ya know? It's totally bad man…like good. Cowabunga to the max. Turbo-charged even. Short version for you lazy bums…I'm in LA right now typing on the computer in my massive pad at UCLA after spending a week in the mountains and the previous week driving across the country. Now for the true believers…you get the juice…and this is fresh off the tree. Flash back to a little over two weeks ago. I had been home in Ohio for a week to hang out with family and friends for a bit before we left.
he calms down a few paragraphs down...
The coolest thing about Tuesday was this old restored gas station we ran into in Illinois. Old gas stations may not be near as cool a Gap's new summer line or that chick who won the new American Idol, but they are pretty neat. They're real tiny and old-looking. And hey, retro-chic is total now. It's so yes. Va-voom!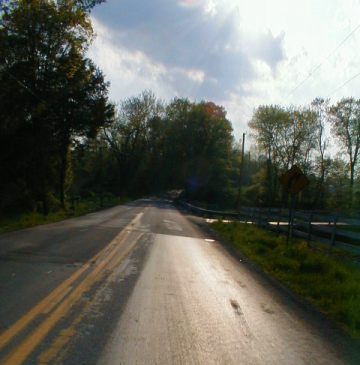 Why? Why do people do crazy things like going out West? And me? I don't think it can happen, but even I am thinking about spending a week in Colorado with my trucker cousin.
** * **
"I think it's a guy thing" my professor said.
One of the female students retorted, "Yes. I agree. It's dumb."
I chuckled. Studying English at a mostly-female college means that guys are almost always outnumbered.
"But, I mean, think about it," he said, "the open road. Travel, going to new places? Why do we do this kind of thing? -- hmm.... Well, here's an example. I walked to Vegas once. It was very hot. But on my way, I saw so many...."
** * **
What's out there that people want to see? I mean, Kyle looked at Yellowstone, stopped by Custer's grave, looked at the memorial to the Lakota peoples, and stayed in a space-age motel.
"You gotta get out there, Nate. It's amazing."
** * **
For Jeremy, it's about beauty:
Deep thought: I've been obsessed with beauty lately, not in a Hugh Hefner sort of way (I saw his grave today even though he's not dead; it's right beside Marilyn Monroe's) but in the sense of trying to discover what it is. Now follow me on this. The task of humankind in my eyes is to the see the beauty in a Kansas cornfield. I take a lot from American Beauty, don't get me wrong, but this is great stuff. Now anyone can be driving along the ocean or somewhere typically "beautiful" and think that is a beautiful place. It is. But what makes it beautiful? What makes the ocean beautiful are not the things that make it up. Beauty is not a sum of its parts. It is not the combination of the crashing waves, the glistening sunset, the majestic rocks. These things have beauty in them, but they are not beauty. The beauty is in the fact that this place exists.
You can read Jeremy Ebersole's road diary online.