Legs, my Dear Watson
Sunday, 16 Jul 2006

:-:
Ash, one of the mail employees at Etown College, just blogged their recent experiment to send a leg through the mail.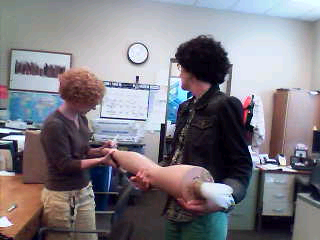 This, of course, put me in mind of "The Adventure of the Cardboard Box," by Arthur Conan O'Doyle. (Last year, I completed listening to unabridged audio recordings of the entire corpus of Sherlock Holmes stories by Doyle.)
One might also think of The Adventure of the Engineer's Thumb. Odd, how appendages seem to figure prominently into some of the more grotesque of Doyle's mysteries (by the way, Wisteria Lodge does exist as an award-winning guesthouse in Cornwall).
** * **
Speaking of boxes, I just spent a week cleaning, packing, and planning for my Sept. departure to England. I'm eager to leave, but for now, I'm even more eager to enter upon a two-month plan of study and preparation.