Radio
Thursday, 4 Nov 2004

:-:
Wow. Natalie Smeltz is awesome. She's the marvelous second trumpet player in the Etown College concert band. Not just a musician, this Lutheran English major has a real caring heart. That's why I wasn't surprised to see who she invited to the college through S.W.E.E.T., the group that organizes many campus events.
Surprised? No. Delighted? You don't know the half of it. I couldn't stop squealing with pure insane joy for about a minute. See, I too can be a groupie.
Especially when the visitors are Radio and Coach Jones.
Thanks Natalie! You made my day -- no, my month -- no, my year. Even meeting people at the WWW@10 Conference wasn't as exciting as spending time listening to and talking with people of such love and kindness.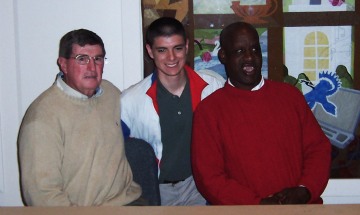 The movie, if you didn't know, really got started from buzz generated by an incredibly awesome Sports Illustrated article by Gary Smith: Someone to Lean On. Go ahead, read it. It's one of the most well-organized pieces of nonfiction writing I've ever read.