Sneak Tinderbox Peek
Tuesday, 20 Apr 2004

:-:
I'm currently writing an article about Nepal.
I am currently writing an article for Tekka about writing an article about Nepal, or more specifically, about using Tinderbox to research creative nonfiction.
Here's a sneak peek of the Tinderbox file I use keep track of my nonfiction research. In this shot, you see more of Tinderbox's use as a box to throw lots of random stuff into than the benefits of linking. Since I'm writing a creative nonfiction piece, it's helpful to paste, for decor, related images into the containers. The images give me a feel beyond the textual research; images help me think beyond mere symbols and sentences, beyond constructs of grammar, think at a completely different level. Visual cues put me there, in Nepal. If I can visualize it, the writing process is more visceral and my writing is more real.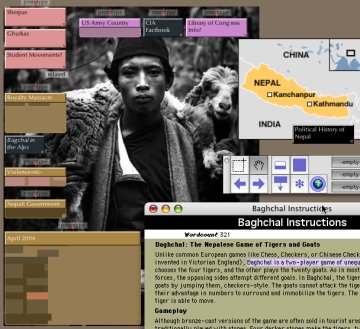 These pictures also set a mood for the research and writing for each related topic. If I'm writing about violence and civil unrest, I want to see photos of violence and civil unrest (from all sides). I want to see faces.
Of course, this just a small area; other other TInderbox features are much more helpful, but I don't want to give my whole playbook away. You'll have to read the article to find out the rest.