The Geodesic Nate
Sunday, 26 Sep 2004

:-: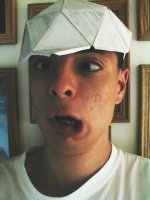 I am currently working on a geodesically-structured hypertext that will actually exist in the physical world. So, in preparation for the final sculpture, I have been working on studies in geodesic geometry.
I completed my first geodesic sphere today. I don't have the completed photos ready yet, but this picture shows the structure during construction.
Who says math isn't fun?