Entering Christmastown
Tuesday, 11 Jan 2005

:-:
Every year, for several weeks leading up to Christmas, Hershey Park opens up, free, to the general public. They strew electric lights like embers from a playful bonfire, scattered in the trees, in the bushes, on the buildings -- everywhere! Bing Crosby croons through the loudspeakers, and visitors from all nations and walks of life amble along the walkways, cheeks rosy from the brisk evening air.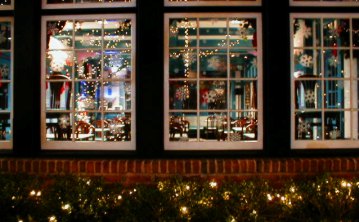 A visit to candylane is like a stroll through so many storybooks, where you know you are safe, the colors are bright, and everyone is happy in the end.
Milton Hershey
The first person one sees when entering Hershey Park is -- appropriately -- Milton Hershey. He was an amazing man -- one of the few responsible industrialists of the 20th century. His legacy is one of generosity, kindness, and wisdom. Hershey somehow managed to become a world leader in the candy industry while running a business that was fair to his workers. He designed the town of Hershey as a place where his employees, from the top to the bottom, could enjoy idyllic life. Hershey, imho, is the closest one can get to an industrial utopian society. During Hershey's lifetime, it worked. He built a beautiful town and put in it a beautiful park, where the people of Hershey could have picnics, enjoy lectures, and listen to concerts. After his death, they turned it into a theme park, but that's a different story.
Milton Hershey started a school for orphans and disadvantaged youth. The Milton Hershey School still provides an amazing quality education for many children. The town playhouse is a beautiful venue for cultural events and the arts (I performed there once. Oy!). The Hershey library is my favorite library in the general area. Hershey even built a wonderful museum, which includes a butterfly house!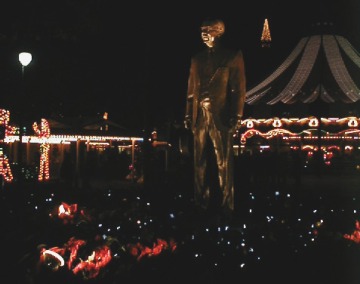 Mr. Hershey passed his money on to the Hershey Trust, a group of people who manage his fortune and use it to improve the opportunities and quality of life of Central Pennsylvanians.
Mr. Hershey has also touched my life -- I have been granted the opportunity to be part of Elizabethtown College's Hershey Foods sponsored Honors Program.
This man deserves a statue. His life is a constant reminder to spend all my efforts -- even economic ones, in the service of others.
But, I cannot linger too long here -- there are things to see and people to meet!