Candylane, 2004
Tuesday, 11 Jan 2005

:-:
I knew it was going to be a beautiful night.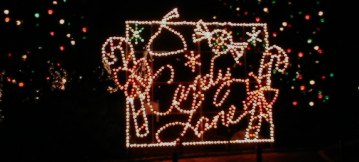 During a semester, I usually afford myself very few luxuries. Time is short, and my schedule full, but this, I had been looking forward to this with great anticipation. After running into an old friend at a coffeeshop, I decided to pay her a visit at work. And why not, when she works as a glass sculptor at Hershey Park? What better time to see a friend than among the color, beauty, and glowing revel of Christmastime holiday?
(cue Mr. Rogers theme -- We're going on a trip, Mr. McFeely!)
Hershey is a beautifully idyllic, upper middle-class town (thanks to Milton Hershey) -- it has an underbelly, true -- but this was a night to forget any sorrow or bitterness, stress or responsibility, and immserse myself in the light, in the smiles, and the company of one of the neatest people I know.
Hersheypark Candylane captures the best in America's commercialization of Christmas. Let's take a look (begin the photo-essay) -->: