My summer and Code
Monday, 18 Jul 2005

:-: [soundtrack]
I sometimes feel like a dinosaur. Once a code-head, obsessed with the machine, I now read poems and make sculptures. Sometimes, my efforts in the humanities sometimes seem pointless and, to be honest, a bit... dirty. What I do is not objective, it cannot be executed, and it cannot be benchmarked. It's much fuzzier.
I feel this discontent most when I can tell my game is slipping. See, I'm a cowboy jockey at heart, and once you have had a taste of cyberspace, the real world just doesn't look the same.
I get ideas, and I dream for the chance to implement them. One of my latest? Using the emerging open source Wikipedia interface API to merge gZigZag/Fenfire interface ideas with Wikipedia.
But alas, there is no time. Other duties fill my life. I can get frustrated.
** * **
When I decided to study literature at Elizabethtown College, it was a conscious choice to step away from the coding lifestyle. I think it's unlikely that I will return to the life I once had.
This was a good choice. My study in literature, writing, art, and music has brought out parts of me that are much nicer to live with. The online world is intense, but the physical world is a more colorful world, with bright sunflowers and cool breezes. Words are still constructs, but instead of pulling me into the machine, they point me to the world outside, and the world inside my soul.
It's a different type of meaning, but it's just as valid as the universe of electric thought in which I once dwelt.
All the same, it's nice to return to more coding in the summers, as I work for Elizabethtown College and combine marketing, graphics design, writing, training, and yes -- coding. I can find comfort in the daily routine:
Parallel park. Enter the keycode. Beeps. Green lights blink. The door opens. There's my office: a black table to one side of an expansive room, a room made smaller by the shelves, tables, and piles of equipment that are always moving in and out. A whiteboard, full of crazy scribbles, hangs on the wall.
On my desk, two laptops with external, extended desktops give me quad-head access to my work, which takes place on four machines.
I have begun to work nights, during which I let the external silence enfold the sounds of Etherine through my headphones. Just me and the code. What a beautiful thing :-). I feel like the organist of information as my fingers play the threads of machine thought.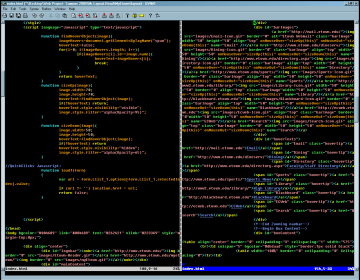 ** * **
But in this, I try to remember who I really am. Not just a jockey, not just a coder-boy. It's not just about me, and not just about the information. The world of computers is cool, but it's just a representation of reality. Reality is cool, but it's just a representation of something deeper. The constructs of human thought cannot go where humans most need to dwell.
The Picture
Can I hang your likeness, nailed and strung
who on the cross has hung
my sins? Could the All in all
be displayed upon a wall?
Is it death to see your face?
Then let me die.
Or, paint my likeness with your grace
so others may see You in I.