The Sitarist
Wednesday, 20 Jul 2005

:-: [soundtrack]
Sunday, July 10. My family was on vacation, and my life was going ballistic with work. I decided to save time by hanging out in Annville in-between church services. I was out of luck. The Lebanon Valley College library was closed. So I studied out on a park bench for a while, talked with Dylan Kinnett from a gas-station payphone for an hour, and wandered into MJ's.
Good times, good times. The Allen Theatre/MJ's is a great place to be. I go there once a month or so to study, think, and write. I ordered a peanut-butter-cup milkshake and sat down.
The study was good. Across from me, a young woman who teaches Chemistry at HACC (Jennifer Thomas?) was grading papers. We chatted about graduate school for a while.
I returned to my work and stared at the screen.
** * **
Just then, a guy walked in with a Sitar. He was on his way to play the Sitar for the yoga classes held at the YMCA in town (mentioned in the linked article). He was early, so he stopped in at MJ's. The musician, Steven Jewett, is definitely a cool guy. In fact, he let me record some of his music (listen).
I wish I had my camera with me that Sunday. The instrument is beautiful. Invented in India during the 1700s, it is primarily used for Hindustani Classical Music (separate from the lesser-known Indian tradition of Karnatic music). The basic notes in Indian Solfege match the Ionian mode in Western Music. This is why the Sitar recorded here doesn't sound too odd to Western ears (more on Indian Music on the Ravi Shankar Foundation website).
Ravi Shankar popularized Sitar music in the West [Ravi on NPR's Fresh Air].
** * **
Steve Jewett is a really nice guy. After staying to record the brief piece, he had to go, and gave me one of his cards: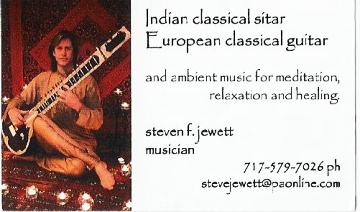 Indian classical sitar
European classical guitar
and ambient music for meditation, relaxation, and healing.
Steven F. Jewett
musician
717.579.7026 phone
stevejewett@paonline.com
** * **