Pianos and Mirrors
Thursday, 20 May 2004

:-:
Zug is now just all pianos and mirrors.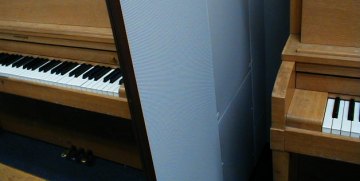 No faces in the glass, or backsides smoothly hunched over the white keys, like a cyclist racing along great vistas of sound. No slouched guitars or bouncingly intent flutists. No mistakes. No entrancing melodies.
It is quiet here. Memories, the whispers of a song inside my mind, tantalize my steps. Come sweet months, when silence fills the hall, when a single piercing lyric emerges from my thoughts into the still air. I will sigh and say, "that is music," as I pull my lips from that most passionate of kisses, my instrument and I become one.
In the stillness, I mourn the friends who I will see no more, whose friendly smiles haunt the still glass doors. But cascading the air once again with a buzz of musical energy, as so many before have done, I fill an empty space with joy and prize the moment, until I too must pass away.