Planning with Tinderbox
Saturday, 22 May 2004

:-:
My new job is to plan the information architecture and write the large part of a new websire for my college. It's no small task.
I've been able to create a Tinderbox file that keeps track of all my email and appointments (an Agent tells me what appointments I have today). It records the research I do. I'm using Tinderbox to track my tasks, with attributes and prototypes to hold progress status information. All of these things can be interlinked.
But the real power of Tinderbox comes in for the actual job.
The company, you see, has not yet delivered the content management software I'm to use. Under ordinary circumstances, this could seem disastrous. No problem for the TInderbox enabled.
Yesterday, I added a flowchart area to my Tinderbox file. Then I started to enter the entire web project into the file...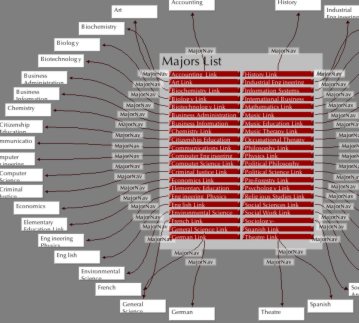 The first baby step. The Academic Programs area structure before interlinking sections
Even though I won't be able to export the Tinderbox file directly to the website (as I do for this blog), writing in Tinderbox has many advantages over using the CMS. The Map View (shown in the screenshot) allows me to easily visualize the structure. This project is fairly large, and I need to completely write a finite set of pages before July 1. By mapping things out in Tinderbox, I am able to see a comprehensive list of all the pages I must write. Individual pages can then added to TODO lists and tied to email communications, appointments, and research related to the individual pages. By storing all the writing in Tinderbox, I am able to search and edit and spellcheck across the entire site.
By being more than a flowchart, Tinderbox helps me do much more than plan the structure. By being more than just a pretty web editor, Tinderbox is helping me plan and complete a very complex job under an extreme time crunch.
Thanks Eastgate.
sigh. I tried very hard to make it to Watertown for the Tinderbox weekend. Good luck folks. I hope it goes well.