Polyphonic Me
Thursday, 26 Aug 2004

:-: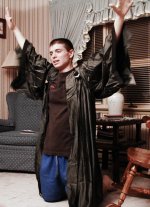 Today, I walk in the convocation processional with the rest of Elizabethtown's College Scholars.
The gown is interesting. I think I would make a good member of Polyphonic Spree. Perhaps I could be the "dark side" member or something. Ak. They already have a trumpet. I would have to work on my dancing anyway.
I suppose now that I have the garb, I should go on a quest for the rest.