Integrity
Tuesday, 24 Aug 2004

:-: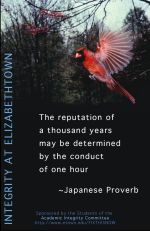 Whew! After about 2 months of picking away at it, I finally sat down and created the first part of my online graphics design portfolio: a set of posters I created for Elizabethtown College's Academic Integrity Committee.
I had fun designing these with my friend Hannah Scott. Although i don't get to exercise my design skills often as a literature major, I always enjoy the opportunity to use a different side of my brain.