Somebody Talking to You
Wednesday, 8 Dec 2004

:-: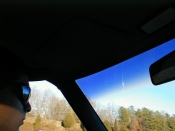 The last time I went on a long trip, I refused to turn on the radio.
I called it Silence.
For once, no words -- I fall asleep to sound, you see.
I loved it.
** * **
Recently, I listened to Somebody Talking To You by Jeff Green. The music is rather jarring for my tastes, but the story -- frighteningly jarring. Jeff writes thought-provoking stuff.
Is listening to audio drama so frequently helpful? I'm not sure any more. Maybe I need a little silence.
...says Nathan as he hits "play" on Blakes Legacy.