The Embedded Journalist
Tuesday, 26 Jul 2005

:-: [soundtrack]
"They made me swear an oath of loyalty to Jefferson Davis, and then they suited me up."
--Stu Kennedy, WITF Radio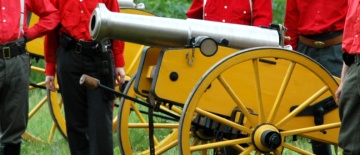 Stu Kennedy, an all-round audio guy for WITF, was recently an embedded journalist with the 2nd Carolina E Company, an infantry group participating in the Gettysburg Re-enactment this year.
In this fascinating event, people gather from all over the United States (and sometimes other countries) to relive these great battles. And Gettysburg was one of the greatest. Considered the turning point of the American Civil War, this battle was brutally deadly.
Stu had the chance to be a part of the re-enactment, but he was able to carry recording equipment with him. What an awesome opportunity! I was able to ask him a few questions about it when he visited our Harrisburg Webloggers Meetup to interview us about blogging.
I wish I could find a link to Stu's radio segment, but I can't.
** * **
The American Civil War is an event of great interest to my life. The battlefield is close to the area where I grew up. One of my ancestors, Gouverneur Warren, made key decisions instrumental in the success of the Union. During one part of my childhood, when my Guatemalan father was trying to learn American history, we would visit great battlefields on the East Coast. We visited Gettysburg re-enactments (and others) many times, especially since my brother is deeply interested in miilitary history. Of course, The documentary of my childhood, despite the enduring quality of many of the PBS documentaries, could be none other than Ken Burns's massive, fascinating, The Civil War. My brother and I have watched it several times. The topic continues to fascinate, from my study of Lincoln on Leadership, to discussions with my professor, David Downing, on his upcoming book on dissenters and defectors in the Civil War.
(More on The Battle of Gettysburg, including primary documents and video, can be found at ExplorePaHistory.com)
** * **
One year ago, I narrated an event at the Whitaker Center in Harrisburg. Dr. Sarracino, a celebrated poet and professor at Elizabethtown College, had teamed up with Dr. Haines, a composer-professor-therapist, to produce a 20th century choral piece based on Sarracino's collection of Civil War poetry. The event was called, "Voices of Sacrifice," and I was given the honor of announcing each piece and reading the poetry in-between the choral pieces, since I am attuned to both the literary and musical ends of things (I must remember to post some of this stuff online).
Sarracino's civil war poetry, collected in "The Heart of War," is great. It discusses war emotionally and honestly. He relates the real lives of people in the past to our own lives today. During that performance, one of my favorite poems was one called "Old Soldiers," about one of the greatest re-enactments of all Civil War history. It was a reunion of the old soldiers, men who had fought with each other so many years before. Now they were old, invalid, but they came to honor the day, honor the field, and honor the memory of so many dead.
Sarracino's poem describes the scene as the old soldiers faced each other one last time with weapons drawn. At an impulse, the facing sides collectively dropped their weapons, walked across the gap and embraced.
If only the real wars could end that way...