A Visit From Maddog
Friday, 11 Mar 2005

:-:
A year ago, I met Jon 'Maddog' Hall at the LinuxWorld convention NYC. At the time...
"Hey, here's my card. I have family near you. Send me an email and I'll come talk to your Linux Users Group."
"Really?"
"Sure. I'm looking forward to your email. Seeya later."
Well, he *did* come to my Linux Users group at the end of December. Sorry for the delay -- I have had problems with my iBook. But now that it's all OK, I have put the notes from the meeting online. Read them here.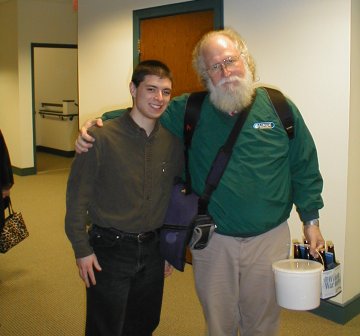 Maddog, the executive director of Linux International, is a great speaker and a nice guy. His parents were a lot of fun as well -- he was spending Christmas with them. It was kind of them to spare him for a few hours. And yes, they do use Linux :-).