Honoring by Humility
Saturday, 12 Mar 2005

:-: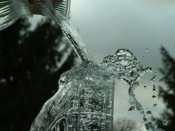 Context: King Saul has died, and David is trying to regain Palestine for the Israelis. He has taken Jerusalem, but a number of battles must yet be won to regain the ancestral lands.
15 Three of the thirty chiefs came down to David to the rock at the cave of Adullam, while a band of Philistines was encamped in the Valley of Rephaim. 16 At that time David was in the stronghold, and the Philistine garrison was at Bethlehem. 17 David longed for water and said, "Oh, that someone would get me a drink of water from the well near the gate of Bethlehem!" 18 So the Three broke through the Philistine lines, drew water from the well near the gate of Bethlehem and carried it back to David. But he refused to drink it; instead, he poured it out before the LORD . 19 "God forbid that I should do this!" he said. "Should I drink the blood of these men who went at the risk of their lives?" Because they risked their lives to bring it back, David would not drink it.
Such were the exploits of the three mighty men.