For General Healing Power
Wednesday, 30 Mar 2005 :-:

["Permalink"] [soundtrack]
Drink 28 Kinds Medicine Tea!
Contains:
water
Sugar
Chrysanthemum
etc [sic]
** * **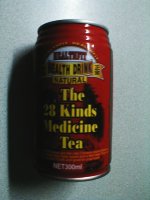 Fresh from our local Korean food store.
Notice that this is "The" 28 Kinds Medicine Tea....
Accept no imitations, permit no permutations! This is the only 28 kinds medicine tea guaranteed to clear your urinary tract reliably. Remember, all 28 kinds medicine teas are not the same 28 kinds medicine tea as
this
28 kinds medicine tea. Look for the only can-do can -- remember red and yellow, and drink "
The 28 Kinds Medicine Tea
." Patent pending.
Yow. That tea is sweeter than liquid candy cane. For a moment, I thought Sugar should be listed *before* water in the ingredients list. I couldn't finish it.
To be honest, however, what worried me most was this ingredient: "etc."